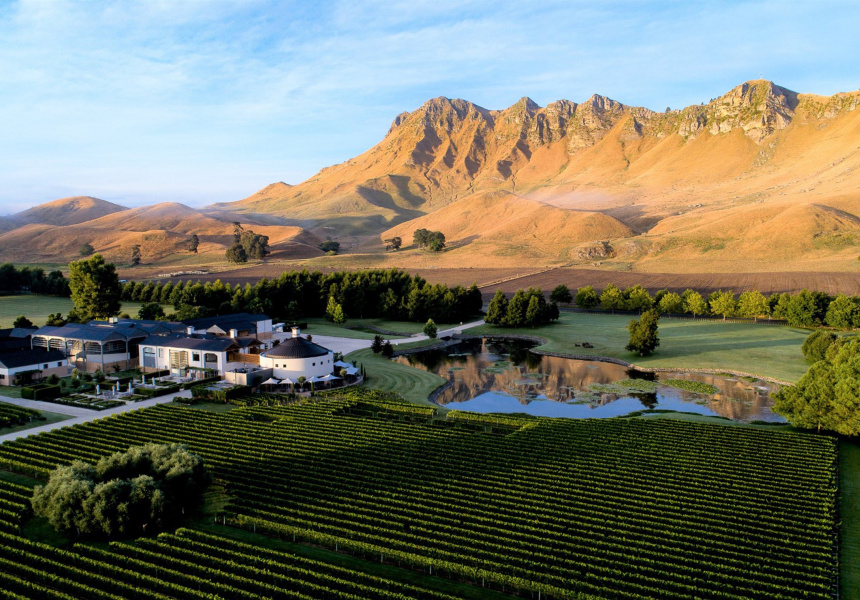 A guide to the best wineries in Hawke's Bay
Kiwis looking for a classic summer vacation have always been drawn to Hawke's Bay on the North Island, about a five-hour drive southeast of Auckland. Vacationers come for the sand, the surf and the idyllic coastal lifestyle, where the days are long and the weather is likely to be fine. But they also come for the wine, and for good reason.
Hawke's Bay is New Zealand's oldest and second largest wine region, with the first vineyards established in the late 1800s. Most vineyards radiate from the main center of Napier, often located on hillsides, river valleys and terraces facing north, or along the sea-watered coast to the south towards Cape Kidnappers.
Several sub-regions bear witness to the diversity of the terroirs which gives the region its distinctive character. Syrah, Chardonnay, Pinot Noir and Sauvignon Blanc draw all the applause, but the standout varieties tend to be full-bodied Bordeaux-style reds such as Cabernet Sauvignon and Merlot. The French influence is also reflected in the menus of many cellar restaurants.
The silt and sand, deposited by the rivers that flow from the mountains to the coast, have contributed to the richness of the soils. While the maritime climate combines low humidity and rainfall (the latter due to the shading effect of the beaches to the west) and many sunny days to ripen fruit rich in tannins and carrying just a hint of brine from the Pacific Ocean.
The area is ideal for wine tours, with most vineyards a short drive from Napier and interspersed with farms and cafes. Here are six of the best to check out.
The Urban Cellar
Located in the historic National Tobacco Company building in the Docklands district of Napier, The Urban Winery combines art deco architecture with artisanal wine. Winemaker Tony Bish specializes in Chardonnay, and a deep complexity lurks in this simple assignment, with tastings revealing glaring deviations in the varietal's flavor profile.
It's the kind of place you can wander in for a quick tasting but then stay for hours, soaking up the atmosphere among the warm woodwork and the elegant barrel room with its gigantic 'egg' barrel. French oak – an essential part of Bish's many chardonnay secrets.
It's not just Chardonnay you'll be drinking: the bar menu dives deep into Hawke's Bay's finest wines and beers, paired with excellent dining options. Order a savory platter or check out the full tapas menu, which includes plates such as ginger and lemongrass dumplings, brisket sliders, and a smoked ham and roasted fig salad.
Craggy Range Winery
Craggy Range might produce its award-winning wines at vineyards across New Zealand, but its home is this Hawke's Bay winery that focuses on Syrah, Merlot and cabin sav (a terraced block a few hours south of Martinborough, near Wellington, produces Craggy Range pinot noir and sauvignon blanc).
You can choose from three different wine tasting experiences. The Ultimate Prestige Tasting is the choice if you want to push the boat out – it includes the cellar's premium prestige wines and includes a guided tour of the underground barrel room and fermentation cellars. And if you're traveling in a group and you're a little hungry (and you like French cuisine), you can order the artisanal plate, which includes the beef tartare, the cheese soufflé, the blue cheese dip, the pork and fennel salami, duck and fig terrine, smoked fish and pâté.
The other major attraction in Craggy Range is the Craggy Range Restaurant. Run by Cutler & Co and Cumulus alumnus Casey McDonald, this fabulous fine-dining restaurant sources local produce for dishes such as seared gurnard with citrus-braised fennel, almond cream and salad. asparagus and octopus, and a glazed shoulder of lamb with shallot purée, wilted vegetables and potato roll. There is also a fabulous all-vegetarian three-course shared menu.
For a good representation of what Craggy Range does best, take home a bottle of his Gimblett Gravels syrah. Luxury accommodations are also available on the banks of the Tukituki River. The winery has been awarded the Gold Medal by Qualmark, a quality recognition program owned by Tourism New Zealand, for its exceptional standards in sustainable tourism and visitor experience.
Domain Te Mata
The story of New Zealand's oldest working vineyard is now part of local wine legends. In 1886 Joseph Bernard Chambers inherited part of his father's sheepfold, known as Te Mata, near Havelock North. A French guest at the property planted an idea in Chambers' head to try growing wine grapes, and after visiting wineries in Europe and Australia, Chambers did just that, laying a plot of pinot noir in 1892. Cut to 130 years later and Te Mata Estate continues to adhere to the classic style of winemaking established in its early days and still produces wine from these original vineyards.
The buildings pay homage to nearby Napier's Art Deco heritage (with a nod to the Art Nouveau style of the Chambers' original property). A base cellar door experience is $10 (refundable with wine purchase) and includes tastings of five current releases, while the $45 showcase tasting brings out premium wines for a hosted experience with view of the vineyards. The ultimate experience is the $120 VIP Tour, where you'll visit historic vineyards and enjoy a private tasting of current and cellar vintages.
If you're looking for something to take home afterwards, Te Mata Estate's 2018 Coleraine scored 96 points per Passionate about wine magazine for its cellar references.
Elephant Hill
Elephant Hill's contemporary style sea green copper cellar door immediately catches the eye.
This fabulous winery is located on the Te Awanga coast between Napier and Cape Kidnappers, with its fruit sourced from three different Hawke's Bay vineyards. The diversity of terroirs means deep and complex flavors for blended wines, while individual vine drops reflect a more site-specific character. The Airavata Syrah is a must – a flagship example of Hawke's Bay Syrah quality – and the Sea Sauvignon Blanc is a crowd favourite, while the winery's estate range represents great value.
Head to the cellar door Thursday through Monday for wine tastings and take your time with a platter of local produce from artisan caterer Jo Deitch (vegetarians are well catered for, just mention when booking platform control). The tastings consist of four or six wines from the current version. And if you find the surroundings too beautiful to leave, accommodation is available in a luxury lodge surrounded by vineyards, with a swimming pool and views of the Pacific Ocean.
Te Awanga Estate
Close your eyes and dream of the perfect summer vacation by the sea. Now open them and find yourself at the cellar door of Te Awanga Estate, on the sunny terrace of a relaxed wooden cabin overlooking the sea. 'Pacific Ocean.
There's not a hint of pretentiousness or stuffiness at this inviting winery, 20 minutes south of Napier, where you can relax on the lush lawn and listen to live music on an outdoor stage while sipping award-winning wines by local winemaker Rod McDonald.
The estate specializes in Syrah and Chardonnay, but the wine list is extensive, so be sure to sample extensively. Wildsong Chardonnay is made from fruit grown at the base of the Ruahine Ranges – a great place for hiking – and has intense fruit flavors to match that classic chardonnay smoothness. The Stuff & Nonsense pinot noir, meanwhile, has a playful take on the idea that you can't make a good pinot in Hawke's Bay.
Pizza dominates the lunch menu and reflects the laid-back vibe (take it out on the grass and take in the view). Try the Fun Guy with mushrooms and caramelized onions.
You can extend your stay at the vineyard apartment (sleeps two), located above the cellar door and boasting a balcony with glistening ocean views. A complimentary bottle of wine and wine tasting are included with every booking, and you can order food at the cellar door or fire up the provided barbecue – it's the authentic "bach" kiwi experience, but at the middle of a cellar.
Church Road
This century-old winery sits on the urban outskirts of Napier in the suburb of Taradale, but its park-like setting evokes rural New Zealand at its best. The cellar door was voted the best in New Zealand in 2019 and features a stone building surrounded by one hectare of peaceful, tree-dotted grounds. It is another recipient of Qaulmark Gold, in recognition of its best practices in sustainable tourism.
One of Hawke's Bay's oldest wineries, Church Road has always championed big, full-bodied reds reminiscent of Bordeaux. The French connection was strengthened a hundred years later when two French winemakers visited and introduced traditional French techniques, including fermenting reds in French oak vats and aging them in French oak barrels. Today the head winemaker is Chris Scott and the range focuses on blends of Syrah, Merlot and Cabernet, Pinot Gris and Chardonnay.
The flagship range is known as Tom, named after Tom McDonald, a talented teenager who was a winemaker here in the late 1800s. You can combine a tasting flight with a visit to the underground museum, emerging again in the sun for lunch under a shady magnolia. There's also a separate behind-the-scenes tour that will demystify the sometimes bewildering art of winemaking and teach you some tricks Church Road uses to produce top quality drops. A more hands-on experience is called Legacy and Winery – a one-hour tasting of pre and current wines that includes a tour of the cellars and museum. Remember to book in advance as only one of each tour operates daily.
The cellar kitchen harnesses plenty of local produce for a sophisticated a la carte menu by chef Grant McHenry. Start with ginger-caramel pork belly or smoked salmon with beets before moving on to fish from the market or an eggplant schnitzel with artichoke sauce and homemade baba ganoush.
This article is produced by Broadsheet in partnership with Tourism New Zealand.