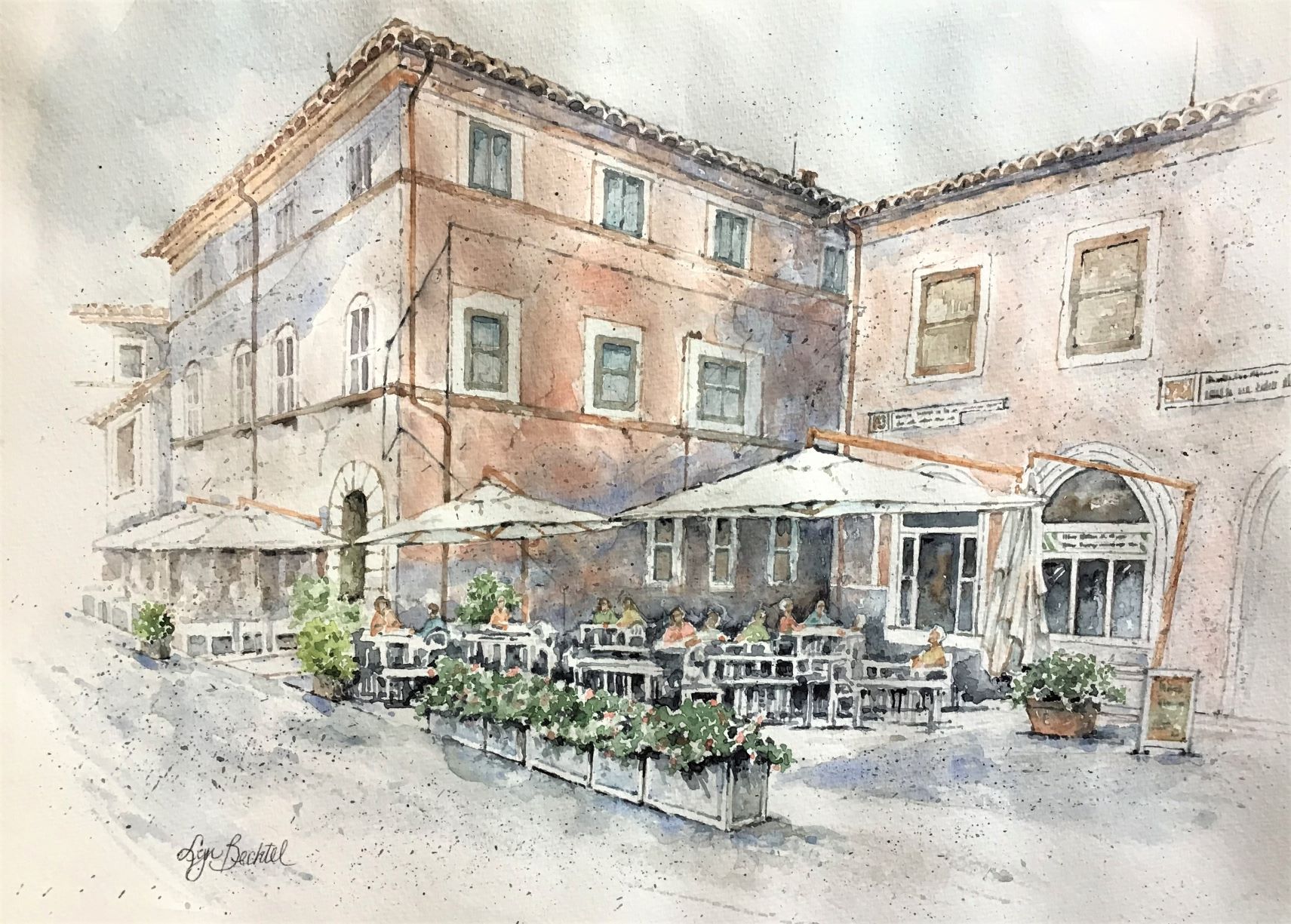 Take an Art & Wine walk, to make you smile
An evening of festive artistic appreciation will be offered at the Art & Wine Stroll, a presentation of the Brooksville Main Street program and the Hernando County Fine Arts Council on Thursday, November 11, from 4 p.m. to 8 p.m. in historic downtown Brooksville .
"The Brooksville Main Street program invites you to stroll the beautiful streets of historic downtown Brooksville and enjoy an evening of art appreciation," the event description reads. "Many of our downtown businesses will provide an opportunity to meet and greet while also providing the opportunity to showcase a collection of artists from Hernando County. All proceeds from the event will be donated to the Brooksville Main Street program and its mission to revitalize historic downtown Brooksville.
As guests stroll through the streets of downtown, they will enjoy a deluxe display of artwork samples from Brooksville Main Street Third Tower and Hernando Fine Arts' Mobile Mini Murals Program. Council. This mini mural project "aims to enhance the value of downtown Brooksville, promote quality artwork, provoke interaction with viewers, spark thought, entertain and excite visitors through the public art work ". For this phase of the project, each mural revolved around the theme "Make Me Smile". As they peruse the murals, guests can then venture out to local businesses to see artists at work, demonstrating their creative techniques and flaunting the magnificent results. While sipping – tasting fine wines and aperitifs at each location.
"The art will be showcased inside and out," said Natalie Kahler, general manager of Brooksville Main Street. "Inside you can watch the artists create. You can see the creative process.
Allisa Babor, media contact for the Hernando County Arts Council, said a wide variety of media will be presented at the event.
"The Art & Wine Stroll showcases the work of 10 local artists at various downtown businesses. Participants will start at the courthouse and walk around the city, meeting artists along the way! " she said. "Each location presents a new artist with several types of media such as photography, watercolor, oils and mixed media. We hope to see you there! "
Tickets cost $ 25 per person and include a commemorative cup, wine, and hors d'oeuvres at each location. Buy your tickets on https://bit.ly/38QdWGF
The artists featured at The Art and Wine Stroll will be Renata Villemaire (paintings), Sonny Vergara (photography), Lyn Bechtel (watercolors), Dean Napp (Lumanation), Lee Middleton (paintings), Alberto Stephenson (mixed media) and Lynn Shaffer ( wall artist).
Vergara, about to release the photography book "FLORIDA. – Images of natural Florida… and more, "has a passion for art.
"If humans lacked passion, there would be no art because art is the purest expression of passion in a human. It is the passion that fuels artistic creativity, whether it is anger, joy, curiosity, fear, hatred, love or any other feeling that a human may have, "he said. . "And, the expression of artistic passion by an artist is not necessarily to acquire wealth and fame although many times it may be limited by its absence. So, if it were not to be able to show your work and feel the impact it might have on others, artists' lives might be lonely and without confidence that their work is relevant. Relevance is the key, the food that nurtures artists and motivates them to try again, to do something different or more difficult, to be brave to find new ways of expressing what is in them.
Artists are also thriving, Vergara said, thanks to the opportunity to exhibit their art in a public forum.
"So when a community says they want to see their unique work and create opportunities for others to see and react to it, that's so important," he said. "And, if someone finds this work so compelling that they have to have it on their wall or in their garden or just to own it, the artist becomes complete. He or she actually becomes relevant. This is why artistic walks are important. They offer an opportunity for artistic relevance and the hard and sometimes expensive work of the artists is well worth it. Thanks to Brooksville Main Street, the Hernando County Fine Arts Council, and those who have so graciously opened their doors for artists to exhibit their work. Let there be more, more often!
Lynn Shaffer believes that the art walk is an ideal place for the work of local artists.
"I started painting about a year and a half ago. One of the most difficult aspects of doing business in the art world is finding places that allow your art to be seen. I belong to the Tarpon Art Guild which has been an amazing experience, but not everyone knows the guild or the location may not be suitable for some, "she said. "That's why I love events like the Brooksville Art Walk. It gives artists like me the opportunity to show my work to a new audience. In addition to selling some of my work, I have also met people who would prefer a custom piece made for them. I was also referred to others from a particular show. The possibilities are endless and always exciting!
Dean Napp shares that he will be stationed at the track building for Art Stroll.
"I design and engrave works of art in carved wood and photos of clients on wood," he said.
Lyn Bechtel, present at Treasures of the Heart, is also eager to come out and share her artistic creations.
"During the pandemic, I kept my sanity by painting and painting. . . I am now overwhelmed by the paintings and with the galleries just reopening, the art exhibitions are hardly starting again, "Bechtel said. "I look for all outlets to reach people with my paintings. The Art and Wine Stroll seems like a wonderful and creative event to do just that and I look forward to it.
Artwork by Dean Napp, photo provided.
Lee Middleton can't wait to connect with art fans on the walk.
"I like the idea of ​​this event. It offers people the eclectic work of local artists, "he said. "As artists, we are always looking for an exhibition. It is always interesting and pleasant to get in touch with people interested in your work face to face.
On the day of the Art Walk, guests must first check in at the Hernando County Courthouse Square at 20 N. Main Street to obtain bracelets and commemorative cups.
Make sure you follow the Brooksville Main Street Facebook page and visit the site www.welovebvl.org for more details.
Related