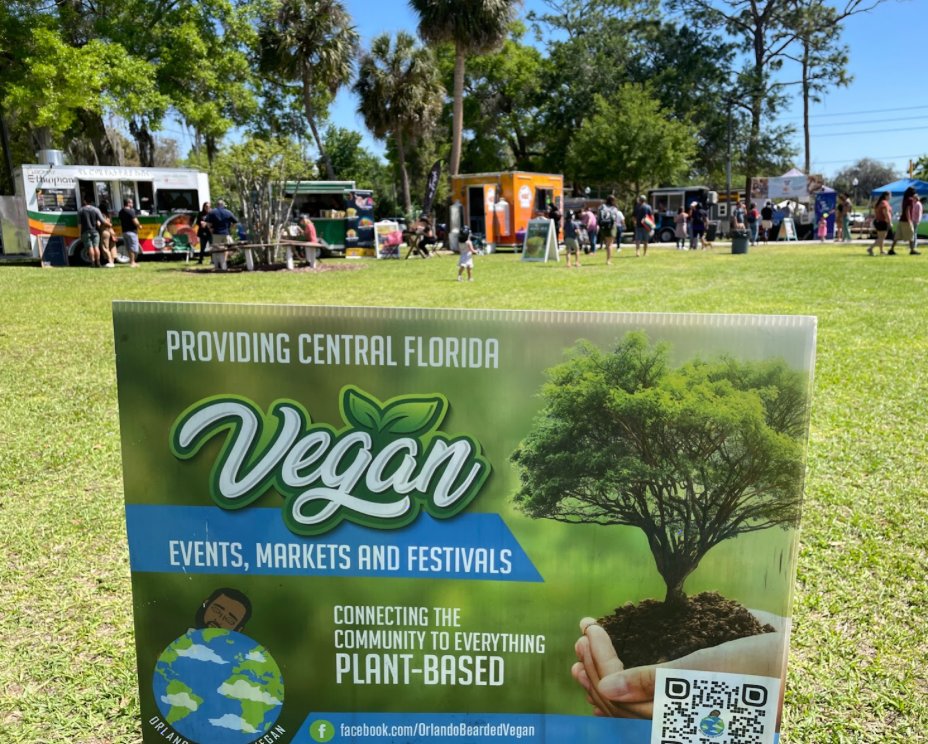 The vegan revolution is coming to Apopka
By Katelyn Colley, Intern Correspondent with The Apopka Voice
Oops, I made it vegan!
On Saturday, Apopka hosted its second annual Vegan Food & Wine Festival to promote awareness and offer local produce to people interested in a vegan lifestyle. The free event, held at Kit Land Nelson Park, invited over 100 vegan vendors to share their crafts, food and clothing with the community.
The festival had something for everyone, including face painting for the kids and special treats for the dogs. With such diversity in Central Florida and the vegan community, guests could feast on international cuisines from Ethiopia, Brazil, Italy, and more. Sellers point out that these herbal options are key to catering to different palettes.
"A lot of events just have the unhealthiest food, and you have no other choice," said Shauna Jackson, owner of Do It Vegan. "Events like these not only show that there are better choices, but that you can get healthy foods from all different cultures."
In addition to donating food, festival organizers also brought in five guest speakers who discussed plant-based health and gave cooking demonstrations of their recipes. The list of speakers is part of a larger effort to educate the community about vegan culture and how it can be a daunting change for many people.
"There are so many reasons to eat this way," said speaker Timaree Hagenburger, dietitian and cookbook author. "If you only have one reason that resonates with you, then you can become confident in your decisions, and the people around you will learn to support that."
The festival offered health screenings, Zumba classes, and massages in addition to vegan crafts to promote an all-encompassing message of improving wellness. Apopka firefighter Jon Force and his team also set up their booth to give information and socialize with residents.
"This festival really helps lift the spirits of the town and bring our community together," Force said. "We can also hand out hurricane preparedness flyers and tell people about all the things firefighters can do for them, so it's a good opportunity for us here."
Julie and Jeff Spieser are among the many couples who attended the event and noted that this venue was a great choice for them.
"Because the whole event is outdoors, people are more likely to feel comfortable during this time of covid," said Jeff Spieser, who started attending vegan events after himself changed his regime 11 years ago. "Cooking at home can be daunting at first, so this festival lets them get out and try new foods without that stress."
Veganism has grown in popularity over the past decade. According to the Good Food Institute, a non-profit vegan organization, the U.S. market for plant-based products grew 27% in 2020 alone. While farm-to-table style stores like Sprouts Farmers Market and The Fresh Market are also expanding across the country, offering customers a range of food options that were once unavailable.
Portia Cannon, who came to the event to promote her business Tough Vegan, knows firsthand how vital self-education on this growing trend can be.
"Veganism is spreading a lot," Cannon said. "If you don't want to learn more online or at YouTube University like me, they now have options like vegan block parties, workshops and festivals. Don't be afraid to step out of your box and try.
For the likes of Garrett Hausman, this event is precisely the out-of-the-box experience he was looking for. Hausman originally came to the event to support his girlfriend's business, but quickly realized he appreciated her in a new and personal way.
"I'm not vegan, but I've always been curious about how to make food more sustainably," Hausman said. "This event 100% improves visibility on the vegan lifestyle. Now I'm here to learn more and so far all the food has been good too.
Apopka's vegan community hopes to continue reaching people like Hausman in new and exciting ways each year. Organizers plan to bring the festival back in the spring of 2023.