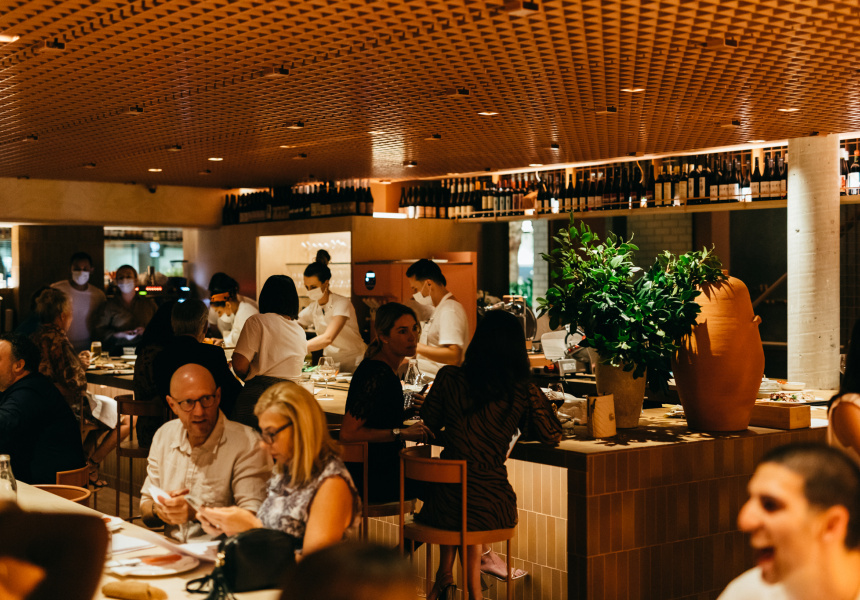 Best restaurant openings in Brisbane in 2021 (so far)
[ad_1]
Covid-19 was supposed to be the end of Brisbane's restaurant boom. Instead, it feels more like an accelerator, as overseas vacation dollars are spent in the local economy and southerners are moving to Queensland in ever greater numbers. This means that a surprising number of new restaurants opened in the first half of 2021. Here's what you need to check out.
Spuntino Cup
Coppa Spuntino lives on, reborn by the riverside in the old excavations of Il Centro after closing Creek Street – apparently for good – in early 2020. The snack-focused menu includes old Coppa favorites such as burrata, pork and veal meatballs, pork and pappardelle with beef stew, and the immensely popular gnocchi with kale and walnuts. For main courses, there's the roasted arugula and apple porchetta, and a bistecca alla fiorentina designed to be shared. When it comes to drinks, the focus is on Italian wines and styles, and local minimal intervention drops, but Coppa also loosened his neck to introduce a slush machine that spins frozen prosecco and frozen Negronis. . For the design, owners Bonnie Shearston and Tom Sanceau worked with architect Adam Laming to reinvent the old Il Centro space as a beautiful airy restaurant inspired by Amalfi with tile, wood, white plastered walls and rattan lights.
Butterfly
Melbourne's endless lockdown in 2020 inspired chef Alex Kim to migrate from the Victorian capital and open his first restaurant in Brisbane. The result is an intimate 22-seat Korean and Japanese omakase restaurant on Jurgens Street in Woolloongabba. Out of 16 courses, what you eat depends on what's fresh from the market on the day, but may include kingfisher sashimi; sumiso salmon caviar (traditional sauce made from light brown miso); a yukhoe tartare sandwich with fermented cod roe cream; Wagyu bulgogi with hollandaise sauce; or pork and kimchi mandu (Korean dumplings) served with mashed potatoes. Throughout, the emphasis is on Japanese and Korean cooking techniques applied to local ingredients. The space itself has been reduced to its bare elements, with concrete brick walls, a concrete floor, and a three-sided counter that surrounds a prep bench and wood-fired grill. Its few accessories include a small Zen garden and a record player playing classical and jazz music.
Bianca

Arguably the biggest opening of the year to date, Bianca isn't just another neighborhood Italian restaurant. The team behind Agnes, Honto and Same Same collaborated with sought-after architects Richards & Spence to produce a striking, tile-laden place permanently bathed in a peach glow, its bright orange brand inspired by Saber Paris cutlery with black handles. acrylic restaurant. . The menu is the occasion for co-owner and celebrity chef Ben Williamson to let loose. It includes snacks, entrees, seven homemade pasta dishes, and a handful of main courses. The pasta is meant to turn, but the permanent facilities include a paccheri al pomodoro with stracciatella and a pork and fennel lasagna. Sending it home is an Italian-made Carpigiani soft ice machine, used to create the restaurant's Instagrammable dessert menu. For drinks, there is a 350-bottle list that focuses on Italian wines and local wines made in the Italian style.
Melrose
Occupying an airy spot on the roof of the first floor of Bulimba's Oxford Street, Melrose is the Venzin group's move to an upper-middle-range dining room, with co-owners Giorgina Venzin and Chris Hollingsworth signaling their intention with the hiring of the former chef from Longrain Melbourne Arte Assavakavinvong to lead the kitchen. He prepares shrimp and betel pomelo leaf wraps, yellowfin tuna larb, a selection of Indonesian kebabs (beef, sticky pork or okra) and a main menu consisting of sautéed soft shell crab with curry powder and Chinese celery, a Malaysian style chicken curry and spicy turmeric spatchcock cooked over charcoal. For drinks, there's a chic cocktail menu and a 60-bottle wine list. Layout-wise, the 110-seater is inspired by the lavish beach clubs of Bali and Koh Samui, and is decked out in woods, terra-cotta tiles, and plenty of greenery. The feature that kills? A retractable roof that will take on its full meaning during the warmer months.
Kiss Kiss and Iris
The double punch of the newly opened Hotel X is Bisou Bisou, a ground-floor restaurant inspired by casual Parisian diners, and Iris, a rooftop restaurant and bar with stunning views of the city, valley, New Farm and Moreton Bay.
Bisou Bisou offers French icons such as aligot potatoes (silky mashed potatoes with melted cheese), steak tartare and steak fries with café de Paris butter. There is also an oyster and caviar bar, and a cheese cart with over 25 French and Australian cheeses. For drinks, a 200-bottle wine list is complemented by an adventurous cocktail menu. In terms of looks, the Space Cubed design studio delivered a lavish venue full of arched bricks, hardwood floors, and marble countertops.
Upstairs, Iris is the freest affair, meant to capture the feel of the Mediterranean with stone and tiled walls, rich fabrics, olive trees and hanging wisteria. The food is a mix of tapas, flatbreads and larger plates to share, aided by a classic cocktail list, sangria menu, and a tight 80-bottle wine list that mixes Australian drops with wine from Spain, France, Italy and Greece.
Elementi
From Beccofino veterans Mauricio Zarate, Pedro Sanson and Stefano Spataro, here is this laid-back Italian restaurant from Given Terrace, which, when it opened in February, immediately became a contender for the best pizza in town. A Marra Forni wood-fired oven prepares a pizza menu divided into classic rossa options – including Salsiccia (scamorza cheese, pork sausage and onion) and Marina (mozzarella, white anchovies, artichokes and watercress) – while the bianca pizza gets a little more creative, with choices such as Trevisana (mozzarella, gorgonzola, radicchio, cherry tomatoes, walnuts, and ham) and Piemontese (mashed mushrooms, mushrooms, buffalo mozzarella, and artichokes). The rest of the menu includes arancini with peas and fontina cheese; fried stuffed olives; and a trio of pasta, including ravioli stuffed with artichokes, potatoes and sweet onions. The drinks lean heavily on classic Italian wines, but also include lesser-known varietals.
Otto
Finally, Otto found his natural home at the water's edge, dropping from 480 Queen at the end of the year to resume excavations of the south shore previously occupied by Stokehouse Q. The layout is the same from the time of Stokehouse and Otto Chef Will Cowper and Restaurant Manager Alan Hunter's respective food and wine menus are pretty much the same, but those unobstructed city views lean into Otto's sense of occasion. , giving the new place its own unique ambience. Beyond the famous lobster spaghettini, the pasta includes ricotta and lemon filled tortellini with mushrooms, pecorino and chicken brodo, and a potato gnocchi with Otto beef brisket, roasted onion and gremolata. For main courses, there's the Longreach lamb rump with bell pepper and salsa verde, and the butterfly spatchcock with pancetta, potato, grilled lemon and capers. The wine list – up there with the best in town – will make you travel with pleasure around the world, but specializes in Italian drops from small producers. The biggest change is the opening of Otto Osteria, which transcribes chic Italian food and drink in a more accessible bar-style setting, perfect for South Bank intruders.
Manly boathouse
The former 18 Footers Sailing Club snowboarding house has been transformed into the Manly Boathouse, an Instagrammable restaurant, cafe and bar. Inside, pretty much everything is white – the light tones, the sectional curtains, the beamed ceilings – and the restaurant is lined with patio doors to make the most of the stunning views of Manly Boat Harbor and Moreton. Bay. Outside, the theme continues with white picnic tables shaded by navy blue and white umbrellas. For food, Chef Braden White (formerly Hatch & Co, The Apo, Ricky's and Miss Moneypenny's Broadbeach) wrote a menu rich in seafood – think barbecued Tasmanian scallops with miso mayo or grilled jumbo shrimp with butter. café de Paris and lemon – washed down with chilled cocktails, 10 extra beers and ciders, and a generous wine list that emphasizes Australian classics. There's also a cafe and fish and chips onsite if you keep it more casual.
Bar Opa and Mezze
A move to the former riverside home of Jellyfish, this immaculate Greek restaurant and bar by Michael Tassis, best known for George's Paragon, Massimo Restaurant & Bar, and Rico Bar and Dining. The menu is divided between traditional dishes – lahanodolmades (pork and veal wrapped in cabbage leaves and served with avgolemono, or egg and lemon sauce), souvla, soutzoukakia beef tartare (spicy meatballs with cumin and cinnamon served with a tomato and quail egg), and half a lamb (with 48 hours notice) – and modernized Greek seafood including raw sea trout with citrus, watermelon and fennel ; freshly shelled oysters with tomato and ouzo; and grilled lobster with capers and ladolemono (lemon and oil) or Cretan butter sauce. For wine, a 200-bottle list showcases a bunch of Greek drops but also Pinot Noir because of its versatility with food. The design of the open-air restaurant is made entirely of white walls and bluestone floors with accents of terracotta tiles, light woods, and terrazzo tabletops.
La Costa Restaurant
La Costa is the beating heart of the new mini food and beverage district created by Stefano de Blasi and Edoardo Perlo (best known for Salt Meats Cheese, but who recently added neighbors Eterna and La Costa Cielo Rooftop Bar and The Parlor to their wallet). The bones of his previous life as Foresters are still there, but the golden references to New York from the Flatiron era are gone. Instead, interior stylist Sarah Vize helped open up the space and brighten up the color palette. The food is a twist on Eterna's simple pasta style and Salt Meats Cheese Italian pizza, accompanied by a handful of elegant main courses. For drinks, there's an international-minded, small-producer-focused wine list, a bunch of draft beers, and a cocktail list curated by Sydney bar superstar Maybe Sammy.
Honorable mentions:
Mario's – an aperitif bar and chic restaurant from the Mama Taco team.
Barbecue Mafia – one of the best low'n'slow barbecues in the world at a soccer field in the suburbs of Brisbane? You better believe it.
La Mexicana – Michelin-starred chef Louis Tikaram serves lamb barbacoa, kingfisher aguachile, and grilled street corn, along with a Margarita menu and a back bar filled with tequila and mezcal.
South Austin – expect hand-made tortillas, smoked meats and frozen margaritas from one of the best low'n'slow barbecue teams in the world.
[ad_2]