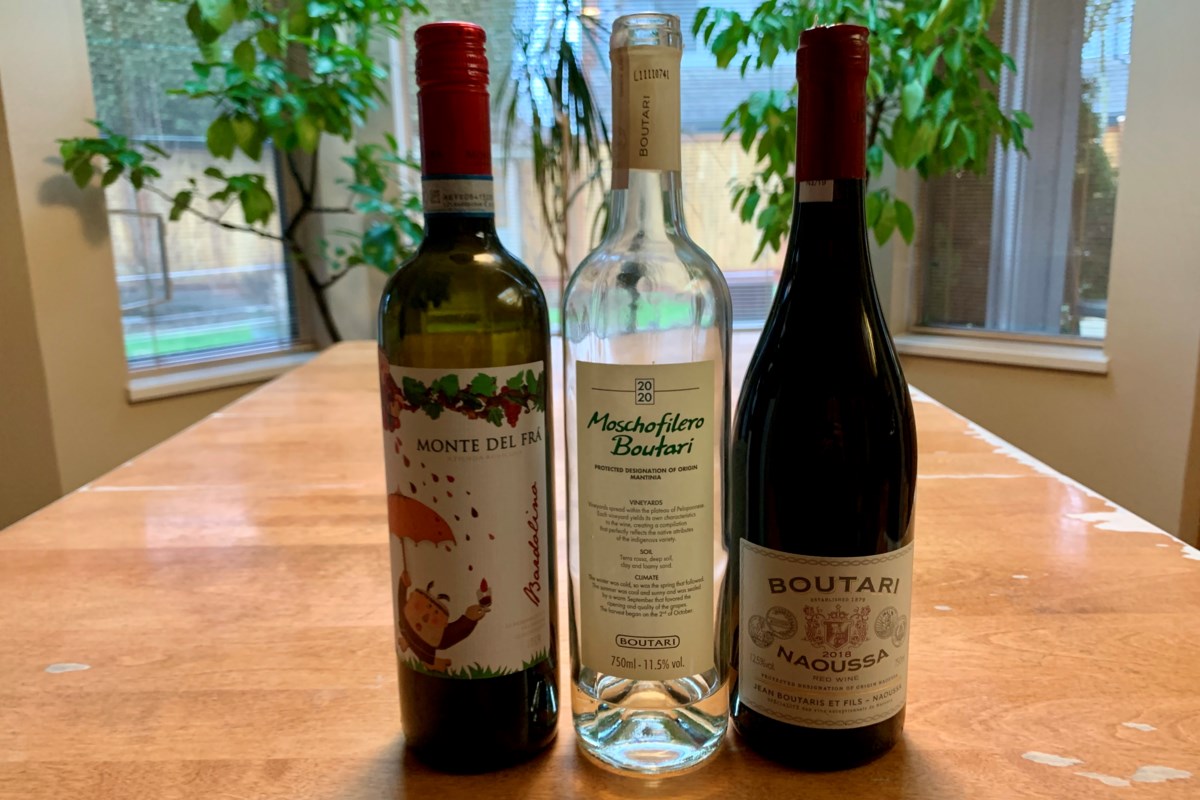 Column: The wines recommended today don't have to be Greek for you
When asked what they think of Greek white wines, most wine drinkers will think of Retsina and wince! Retsina has the distinctive smell and taste of pine resin or Pinesol. And that is an acquired experience!
For something completely different, do yourself a favor and pick up a bottle of 2020 Boutari Moshofilero ($18.99; 91 points). Boutari was established in 1879 and it is one of the best wineries in Greece.
This is a lovely aromatic Greek white wine made from the native Moshofilero grape of the Peloponnese. It has a pale straw color with a hot pink tint. The Moshofilero releases an enchanting aroma of spring flowers washed down with a few squeezes of citrus. This refreshing dry white wine is fresh and crisp with notes of ripe apple, grapefruit and lemon and ends in a long fruity finish.
This is a perfect wine for seafood: calamari, Manhattan clam chowder, grilled octopus, ceviche, fish tacos… the possibilities are endless! And it certainly doesn't taste like Retsina. It's instantly delicious!
Boutari also offers a red wine made from native Xinomavro grapes, Boutari 2018 Naoussa ($19.99; 89 points). It was first produced at the turn of the 20th century and now bears the original label. If you want a red that isn't created in a ripe, fruity style, Boutari Naoussa is your 'cup of tea'!
The Naoussa has a medium-light terra cotta hue. Its aroma has multiple components: tea, beet and tobacco with cherry and tomato, and cranberry and earthy. It reminded me of drinking a Pinot Noir.
On the palate there is a light body with lots of terroir with hints of herbs and spices. The tannins are rather strong for a wine with this light substance. It is definitely a table wine! When I tasted the Naoussa with a rack of lamb, the wine revealed its best character. It brightened up with more fruit than it was obvious to taste solo!
Besides lamb, enjoy it with moussaka, beef souvlaki or roast chicken with rosemary and oregano.
My final recommendation is the Monte del Fra 2019 Bardolino ($16.99; 90 points). Last week I highly recommended Monte del Fra Custoza Superiore, a white with four indigenous grape varieties. Today's Bardolino is also a blend of native Italian varietals: 65% Corvina, 30% Rondinella and 5% Sangiovese, from 55-year-old vines. Bardolino is Valpolicella's lesser-known neighbor in the Veneto region of northeast Italy.
There is a medium garnet color in the glass, and on the nose expect dark and red fruits with spice. Savor the juicy, crisp flavors of red and black cherries, kirsch, with medium-light tannins, a kiss of cinnamon and cloves, and a subtly bitter finish.
Monte del Fra Bardolino goes well with pork tenderloin, tuna poke or spaghetti alla puttanesca.
All of today's Italian and Greek wines are available at BC Liquor Stores.