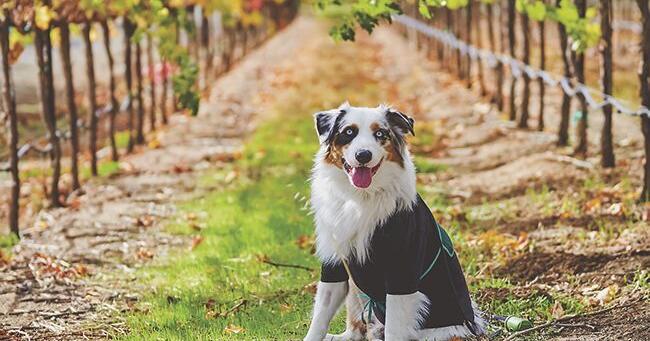 Wineries to Host Livermore Valley Winegrowers Association's Annual Wine & Wags Event | Culture
More than 25 Livermore Valley wineries will participate in the fifth annual "Wine & Wags" on Saturday, April 30, a day of wine tasting and activities for dogs and their owners sponsored by the Livermore Valley Winegrowers Association.
In addition to wine tasting for their human owners, canine activities will include a costume contest at Retzlaff Vineyards, a photo booth and belly massage station at Rosa Fierro Wineries, an obstacle course at Garre Vineyards & Winery and animal portraits at Concannon Vineyards. Guests are encouraged to bring their dogs to enjoy the day, from noon to 4:30 p.m., but pets are not required. Dogs must remain in rental at all times.
Other participating wineries include 3 Steves, Almost Famous, Bent Creek, Big White House, Boaventura Vineyard, Cedar Mountain Winery, Dante Robere Vineyards, Del Valle Winery, Favalora Vineyards Winery, Fenestra Winery, Free Range Flower Winery, Las Positas Vineyards, Longevity Wines, McGrail Vineyards and Winery, Nottingham Cellars, Omega Road Winery, Page Mill Winery, Paulsen Vineyards, The Singing Winemaker and Wood Family Vineyards. In addition to discounts on bottles of wine, several wineries will also be offering pet-themed crafts and gifts for purchase and have invited Bay Area animal rescue organizations to bring donations. dogs available for adoption.
Animal rescue organizations include Animal Rescue Foundation, Calpaws K9 Rescue, Contra Costa County Animal Services, Coppers Dream Rescue, Destiny's Hope, East Bay SPCA, German Shepherd Rescue of North America, Ozzie's Pound Puppies, Paws in Need, Tiny Paws Pug Rescue, Umbrella of Hope, Valley Humane Society and Wings of Rescue.
Tickets for Wine & Wags are $30 in advance at lvwine.organd $35 at the event. Each ticket includes admission to participating wineries, a GoVino Livermore Valley Wine Country glass, at least two wine tastings at each winery, and access to event activities.
The Livermore Valley Winegrowers Association is a nonprofit marketing organization that works to promote wine, wineries, and related tourism in the Livermore Valley.