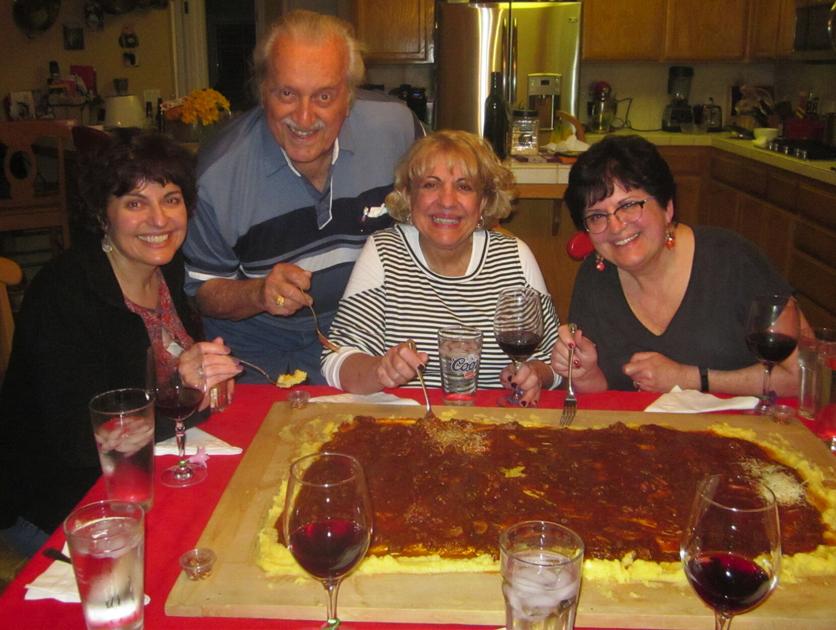 THE DISH: Join the San Rucci family for the winemaker's dinner | Food
For its first Winemaker's Dinner, San Rucci Winery wanted to go back to its roots with a hearty Italian meal.
On November 6, The Kitchen will host the dinner in honor of the family tradition of polenta alla spiantora ("on the plate"), which is the popular way to serve it in northern Italy.
Lisa Merz, whose husband Bill and son Tony run San Rucci, said she remembers many family meals while enjoying the hot porridge.
"I had this regularly growing up," she wrote in an email. "We also did it for family gatherings. In the old days we had up to 15 people, we had several boards laid out end to end.
"It's a very casual and relaxing dinner. When everyone can eat together on a large board, it's fun to trace your region with cheese and try to keep the others out of your space. world is done, it's interesting to see if the leftovers look like anything in particular, like a state map or a person's head … and there's less dishes to wash .
Although security concerns preclude the traditional method of serving for now, Merz said it would be a similar experience and knows that chef Richard Yoshimura and sommelier Jeramy Brown of The Kitchen will come up with something creative.
The family chose this time of year for their first dinner because it is the end of the harvest and "the time of celebration".
"San Rucci is a family-owned winery that wants to share artisan wines that reflect our Italian heritage and our love of family, friends and traditions," said Merz. "Since polenta, or boiled on the plank, as we would also call it, is a family and Italian tradition. We thought it would be something unique to share with everyone."
The dinner will consist of four courses: antipasti, with homemade pickled vegetables and a selection of Italian meats and cheeses served with homemade focaccia bread; sliced ​​fennel salad with orange wedges and walnuts in a tarragon vinaigrette; polenta alla spianatora, with braised pork shoulder and sautéed purple kale; and chocolate croissant bread pudding with mocha whipped cream.
San Rucci will accompany the meal with its sparkling wine, rosé, cabernet franc and dessert wine. And there could also be a surprise barrel tasting, Merz said.
A welcome reception begins at 6 p.m. followed by dinner at 6:30 p.m. on November 6 at The Kitchen, 1317 20th St.
Merz said the family are looking forward to next month's dinner and hope to make it an annual event at The Kitchen.
PINK THOUGHT
For National Breast Cancer Awareness Month, some restaurants are helping to raise funds.
Rusty's Pizza holds its slice of hope once again. Tuesday, visit the Rusty Stores at 6675 Ming Ave., 5430 Olive Drive, 10824 Rosedale Highway, or 10401 Main St. in Lamont for lunch or dinner and restaurants will donate to Links for Life. The association offers support and services to local breast cancer patients.
Black Angus Steakhouse also supports the cause of breast cancer awareness. Throughout the month, the chain donates $ 1 for each purchase of its seasonal prickly pear margarita cocktail – made with Tequila Camarena Reposado, prickly pear syrup, lime-agave house blend and with a dash of grapefruit – to the National Breast Cancer Foundation.
This is the fifth year that Black Angus has organized fundraisers for National Breast Cancer Awareness Month, and the second year of partnering with NBCF, which is one of the most successful breast cancer charities. recognized and respected around the world, providing early detection, education and support services. .
The Black Angus Steakhouse is located at 3601 Rosedale Highway.
OTHER HALLOWEEN TREATMENTS
We'll continue to keep you posted on holiday giveaways and this week two of the big donut chains.
Dunkin 'has unveiled a new decadent peanut butter macchiato showcasing the creamy, chocolatey flavors of Halloween's favorite candy, the Peanut Butter Bowl.
It also serves a spider donut, a yeast donut frosted with orange frosting and topped with a spider-like glazed chocolate Munchkins donut hole treat, with a drizzle of chocolate for the paws. spider web and a dash of orange for the eyes.
While supplies last, it also offers DIY Halloween donut decorating kits – in small (four donuts) and large (nine donuts) sizes – that come with your choice of plain yeast or old-fashioned donuts. , with prepackaged frosting in orange, white and chocolate varieties and three sprinkled mixes.
Members of DD Perks can also get $ 2 of medium hot coffee on all blends, including the 100% Guatemalan blend through November 2.
Krispy Kreme became "Krispy Skreme" for the Halloween season with a logo change, four new donuts and the 1 dozen dollar treat every Saturday, plus a free Halloween donut offer.
His new treats are the dabra abra cat donut, dipped in chocolate icing and black sanding sugar, decorated like a cat with eyes of icing and sugar fondant .; Enchanted Cauldron Donut, an iced chocolate cake donut topped with Kreme and decorated like a cauldron with nuggets and a pretzel witch "broom". bewitched broomstick donut, dipped in purple frosting, decorated with a swirl of frosting and golden stars, and finished with green buttercream and a "broom" pretzel stick; and the spooky sprinkle donut, dipped in orange frosting and topped with a Halloween sprinkle mix.
From Saturday until Halloween, Krispy Skreme fans can get a dozen dollars to share with family and friends with the purchase of any dozen. Each dozen "Saturday Scary Sharies" comes in a box of dozens of special edition spell books, while supplies last.
And every guest who visits a Krispy Skreme store in their Halloween costume on October 31st can receive a free donut, no purchase necessary.
Stefani Dias can be reached at 661-395-7488. Follow her on Twitter: @realstefanidias.