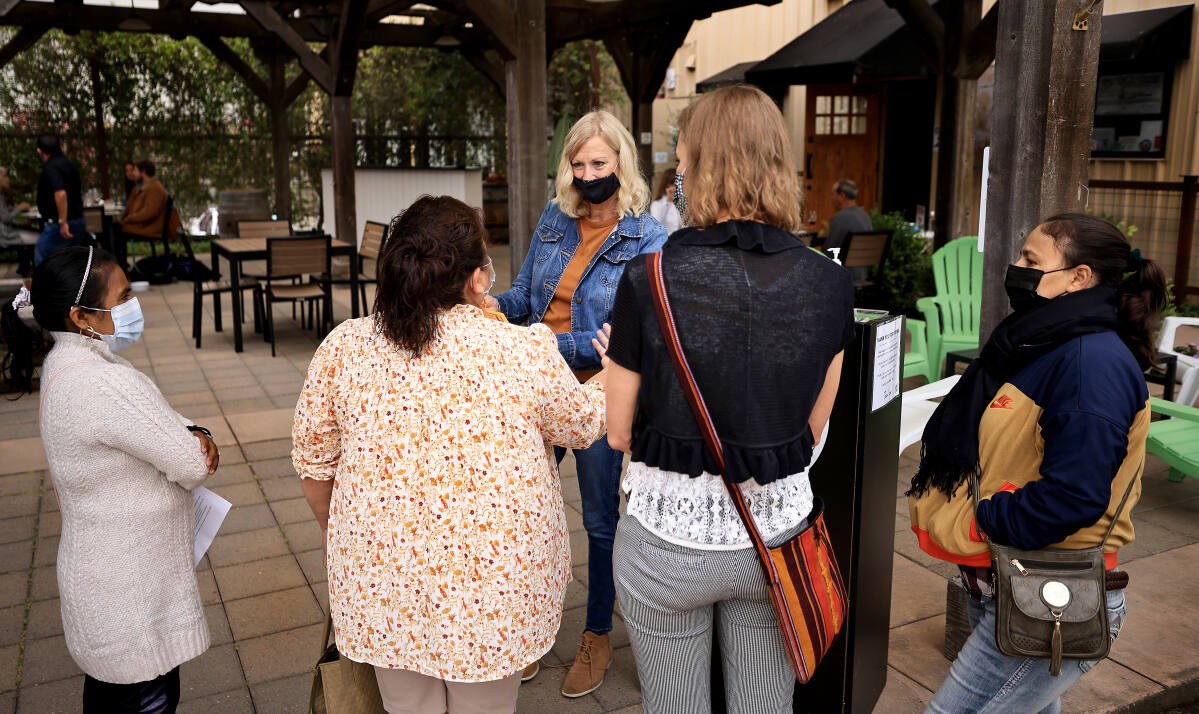 Sonoma County supervisors join debate on farm worker safety during wildfires
[ad_1]
Farm work is something that comes relatively easily to Margarita Garcia, a farmer who harvests the vineyards of Sonoma County.
Raised on a farm, she had an education that instilled in her respect for the land and the harvest.
But, the impact of recurring forest fires in this region has made it harder to quickly harvest the fields – in which workers are typically paid per ton of grapes they harvest.
When fires hit the area, Garcia said, the ash that accumulates covers portable toilets shared by employees. She added that some of her colleagues who speak mainly indigenous languages ​​have difficulty understanding the security information.
And, as she and other workers scramble to cut grapes from local vines, the N95 masks covering their faces prevent them from breathing. Garcia said some have chosen to work without them, exposing themselves to respiratory hazards caused by smoke from wildfires.
"I would love to see people walking up and down Taylor Mountain with these masks on," she said, giving an example of what it's like to harvest grapes during a wildfire.
"It's like participating in a 10 km marathon. Put on that mask, see if you can breathe.
Garcia shared his story on September 23 as part of a conversation about farm worker safety during wildfires. It was organized by the Latino Leadership Group Los Cien, which was launched in 2009 and has over 2,000 members.
The panel discussion, titled "Behind the Lines: Wildfires and Farm Worker Safety," included representatives from Cal / OSHA, the state's workplace safety agency; North Bay Jobs with Justice, a local non-profit organization founded in 2013 that spearheaded a list of demands created to improve the safety of farm workers during major fires; and a consultant winemaker, someone who knows the science of grape growing and wine making.
The Sonoma County Farm Bureau, the County Agricultural Commissioner's Office and the Sonoma County Winegrape Commission were invited to be part of the panel, but none were able to attend, said Kerry Fugett, Los Cien board member. and moderator of the panel.
"Our community has come under the national spotlight to keep our farm workers safe in the face of increasing fires," Fugett said at the September 23 meeting.
The discussion follows efforts by North Bay Jobs with Justice to address growing concerns about annual wildfires in this region, which frequently coincide with the harvest.
From now on, the effort extends beyond the winegrowers.
In this week's interviews, it's clear that supervisors in Sonoma County also intend to get heavily involved in the issue.
Two supervisors, President Lynda Hopkins and Supervisor James Gore, said they plan to ask their colleagues to set aside federal COVID-19 relief dollars to boost worker safety during wildfires. Both are also asking Cal / OSHA to provide local governments with more advice on this issue.
North Bay Jobs with Justice's demands include a risk premium, catastrophe insurance for workers who lose their wages due to nearby forest fires, safety and evacuation information translated into Indigenous languages ​​for better meet the needs of field workers who primarily speak these languages, and community safety observers. this would ensure that employers comply with health and safety regulations specific to forest fires when fires do occur.
"I would love to have Cal / OSHA and our state lawmakers at the table," said Gore, who is also president of the California State Association of Counties.
"We have to create the right criteria because we have to stop innovating in the event of a disaster. We have to embrace the new normal. "
Farm workers and their advocates say large fires could put long-term pressure on the local wine-worker community, a group that does not have the same financial guarantees as the companies that employ them.
Lost wages when forest fires destroy or damage crops, as well as the smoke that farm workers breathe in when they harvest, can devastate workers and their families, they say.
At the same time, farmers are bracing for a light harvest due to the ongoing drought in California. And last year, smoke from local forest fires tainted some grapes in the region, forcing many farmers to leave fruit on the vines, resulting in a 32% decrease in the tonnage of grapes picked compared to 2019.
The safety concerns of farm workers came to the fore in 2020 after a coalition of local groups wrote to the Sonoma County Board of Directors expressing concern about a "lack of consideration for the health and safety of local workers. farm workers "when the Sonoma County Agriculture Department authorized more than 300 companies, including vineyard owners, to bring workers to evacuation areas during the LNU compound fires.
[ad_2]