NJ restaurant openings including Mochinut and more
We're happy to announce several openings – and one reopening – that took place this month in the Garden State. Congratulations to the returning children of ESO Artisanal Pasta Co. for reopening after a successful GoFundMe campaign. Read on to learn more about their inspiring journey and all the new restaurants to check out this month, and follow each one on social media for ongoing updates and announcements!
Smoked meat and poutine from Berg, Belmar
Berg's is proud to sell authentic Montreal smoked meats, as well as Canadians' favorite poutine. On December 1, the restaurant opened a pop-up store instead of Steak Stand (a seasonal location that will reopen next summer). Owner Kevin Newburg's menu features Montreal-style meat (a type of cured beef brisket) in sandwich form, including Reubens and Black Russians. The restaurant also serves varieties of poutine, fries topped with cheese curds and gravy.
Berg's smoked meat and poutine
1405, main street
Belmar
Facebook
Instagram
Cree Wine Company, Hampton
Cree Wine Company is not your average wine place. Owner Chris Cree will be opening the wine bar and event space inside the historic Perryville Inn, and he's offering more than just a few wines. Customers can taste hundreds of different types per bottle, which come from all over the world. Tastes, glasses and flights are also available. Visitors can also indulge in light fare, including cold cuts, as part of a frequently changing menu from executive chef AJ Sankofa.
Cree Wine Company
167 Perryville Road
Hampton
Facebook
Instagram
Maximus Polish Empire Kitchen, Lawrence
Coming soon. this new Polish restaurant in Lawrence will be located in the space formerly held by the Indian restaurant Mehek. No specific date has been announced, but the team is aiming for an opening in January.
Maximus Polish Empire Cuisine
2495 Brunswick Pike
Laurent
Valley Street Restaurant, Maplewood
Valley Street Eatery sees itself as the type of place where "we cook what we want, when we want". The restaurant serves fresh, high-quality food, and its social networks have promoted items such as a ham, egg and Taylor cheese sandwich, as well as the "VSE" version of a Cuban sandwich. The place also serves salads and soups, vegetarian options and iced coffee.
Restaurant in the valley street
530, rue de la Vallée
Maple wood
Jayce Baudry French Pastry, Montclair
On Church Street in downtown Montclair, pastry chef Jayce Baudry offers the best of French desserts, including elegant individual candies and personalized cakes. Guests can indulge themselves with macaroons, chocolates and hot drinks. Baudry, from Bordeaux, France, also takes wholesale orders and even ships his goodies nationwide. The boutique also offers personalized advice to restaurants or hotels wishing to improve their dessert programs.
Jayce Baudry French Pastry
17, rue de l'Église
Montclair
Facebook
Instagram
Mochinut, Montclair and Sommet
Mochinut started as a business in Hawaii and has since expanded to the United States. The concept combines a Japanese mochi (a soft rice bun) with a typical donut. The shop offers flavored mochi donuts, aka Mochinuts, and customers can enjoy options like strawberry funnel, churro, and pistachio, among dozens more. New Jersey is home to five sites, the most recent being Summit and Montclair. The Mochinut website suggests that a location in Princeton is coming soon.
Mochinout
427 Springfield Avenue
Mountain peak
349 Bloomfield Avenue
Montclair
Facebook
Instagram
ESO artisanal pasta, Morristown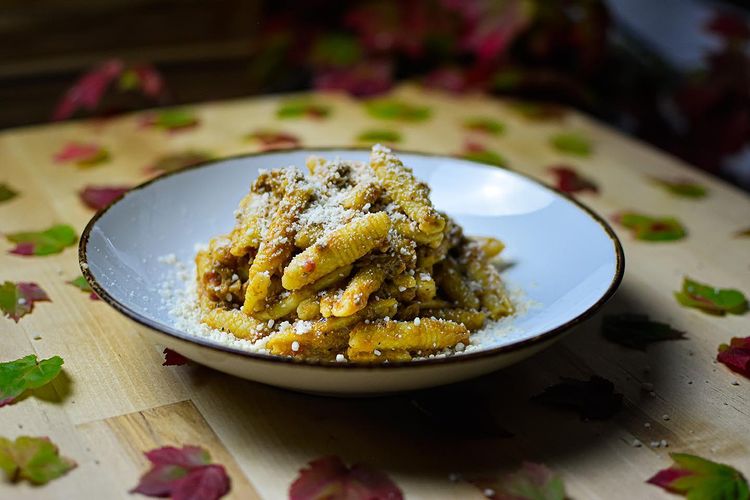 After announcing its closure via social media in September, much to the disappointment of many customers, Morristown's ESO Artisanal Pasta will reopen on December 7, all thanks to a wave of community support.
ESO's chief executive, AJ Sankofa, launched a GoFundMe fundraiser in late October. He wrote: "After two months of fighting for everything we have worked so hard for, we were able to get our baby back, now we can't wait to see him grow!
Chef AJ also warmly thanked the community, "From day one, our community has been the driving force behind our success by showing unprecedented amounts of love and support in every way imaginable. Indeed, the community has contributed over $ 12,000 towards the reopening of the beloved restaurant.
ESO Artisanal Pasta
92A Elm Street
Morristown
Facebook
Instagram
The White Owl Restaurant, Point Pleasant
The White Owl officially opened on December 1 at the place known as Captain Ed's for many years. The restaurant is scheduled to be open from 9 a.m. to 9 p.m. for breakfast, lunch and dinner. Menu items include everything from waffles and egg platters and short rib burgers, to entrees like New York strip loin and honey glazed salmon.
The white owl restaurant
1001 Arnold Ave
Pleasant Point