Find a natural wine paradise at Tap Bar à Vin
As a trained natural wine addict originally from New York, the first thing I found myself looking for on Dianping after returning to Beijing was "natural wine bar".
The first and only (at the time) name that appeared was TAP 踏葡. I let out a sigh of relief – at least my drinking problem was solved.
Luckily for me, a friend knows the owners of Tap well, and I was able to visit the bar – which will soon become my second home – within the first few days of my arrival. Writing this feels like it all happened yesterday, but time flies and Tap already has a whole new look. Their wine list, of course, remains equally spectacular.
Now let me do my best to give you a somewhat immersive experience:
You open maps and type in the name of the bar. You take a taxi and get off just before the entrance to a community – the bar couldn't be located inside, could it? You see the SHANG building is right next to it (with Bottega waving his pizza to you), but your maps tell you to walk the local neighborhood where families, grandparents, and college students walk in and out. You have no choice but to follow without doubt.
After doing a few twists (more so if you accidentally walked the wrong way, like I did), your little blue arrow is finally at the red dot. You look up but all you see is "都市丽人", a local hair salon, but wait! Don't leave just yet!
If you look a little further to the right you will notice a change in exterior styling and see that in the corner there is a small area of ​​parquet flooring. On the white wall hangs the sign "Tap Bar à Vin!
You slide the glass door, and so! Welcome to the world of TAP.
A long bar table extends from the entrance to the rear with approximately 12 bar stools. It's a small space but with plenty of room to stand, just in case it gets packed later in the evening (which it often does). While the original Tap offered a warm and cozy ambience with its wooden interior, the recently renovated bar redefines itself as chic and modern with a metallic finish.
The white wines are located closer to the entrance and the reds are at the opposite end. Each bottle has its price tag on it (a trend you'll find in many natural wine bars) so the only menu you'll need to check is its food menu. I'd recommend the Comté – drizzled with olive oil with a sprinkle of pepper on top – if you're looking for something flavorful yet light.
If you fancy something a little heartier, the chicken liver mousse with baguette is definitely a must. Its layer of honey on top adds a brilliant touch of sweetness that balances perfectly with the flavor and creaminess of the mousse. However, if you've had enough of all those Western small plates, don't worry, as there's also a selection of Chinese snacks. My favorite would be the WenZhou fish cake – sliced ​​with yuzu poured over it and dried garlic as a garnish – it's a must.
I digress. The foodie in me took us off on a tangent, but let me take us back to the bar's namesake – the natural wine. Since we cannot travel casually like we used to, one thing we can take comfort in is traveling by taste buds. Tap offers wines from France, Italy, Spain, Germany, Austria, Switzerland, Slovenia, Poland, etc. Nothing beats the experience of being physically in these countries, but sipping their wine is a close alternative. After all, one of the best ways to experience a different culture is through immersing them.
You decide to sit in an open place in the middle because there are already a few customers sitting inside. Water is immediately poured for you in a small pink cup by the bartender. Observing that you look a bit overwhelmed by the huge collection, the bartender comes to the rescue and asks if he could be of any help.
You: "Hmmm…"
(Silence)
Bartender: "Red or white?"
You: "Maybe a red."
Bartender: "Any flavor you like or dislike in particular?"
You: "Hmmm… something not too big, easy to drink and extra funky!"
And so, the bartender selects two to three bottles, explaining in detail the region, varietal, aroma and taste of each (it's almost like you're taking a mini crash course in wine). I know, it would be amazing if you could drink it all. Alas! A decision must be made so that you choose a bottle of your taste. Whether it's based on the unique design of the label or your fondness for a specific taste described by the bartender, know that this is the right choice because it's your choice! We're throwing wine snobbery here! Everyone has their preference so none of that, "if it's not a GRAPES from this COUNTRY made in the year XXXX then I'm not going to…" Goodbye!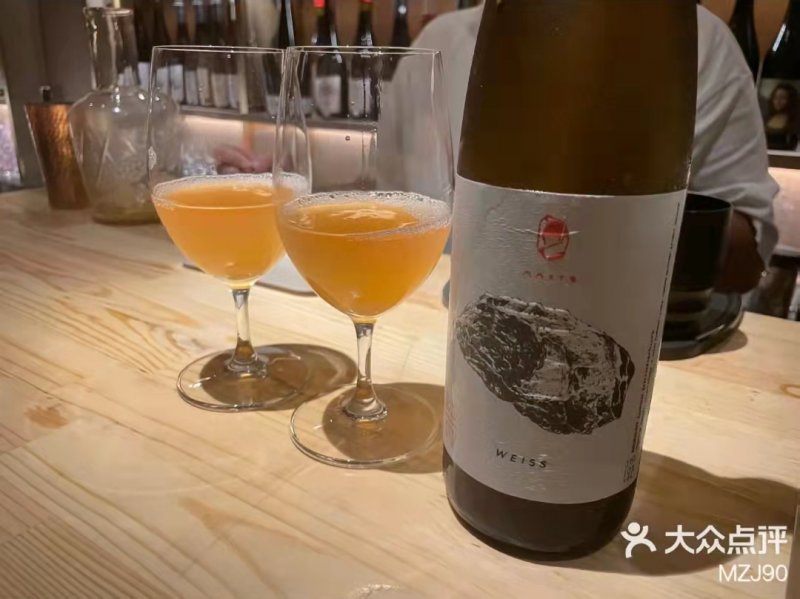 But let's say, today, you're not in your greatest wine craving, or your accompanying friend/date/family isn't a huge wine fan, don't worry because Tap offers you a alcoholic alternative – sour beer. Maybe your +1 gives you another eye roll – I get it! Sour beer is also an acquired taste, but there is a range of sourness. In addition, you will be able to try some of the best sour beers that the United States and Europe has to offer, namely: Apothecary, Cantillon, UP, Wright, BFM (Brasserie des Franches-Montagnes) and various base products from the beer industry.
Before you know it, you've already had a few drinks and you're having a blast. The bar fills with people. Some are on dates, some are having a reunion of friends, and some are comfortably alone here having a good time with delicious drinks. Maybe you even start to strike up a conversation with your neighbor. That's the thing about Tap – as much as this place is about its wine, it's also about the people who come here. Everyone is always friendly, giving off positive vibes, sharing crazy thoughts and really lighting up (sometimes a little too lit, I must say).
Tap is a unique bar, offering calm (weekdays), entertainment (weekends), new friends and always a nice selection of natural wines (or beers). It might not be the bar for everyone but it's definitely a bar worth at least one experience!
Tap Wine Bar TAP 踏葡
Building 1, Xinyuan Xili, Xindong Road, Chaoyang District
朝阳区新东路新源里西1号楼
READ: Sample contemporary Japanese like a drunken tiger at Suikoden
Images: Songnia Guo, Dianping (xychloe, MZJ90)